AUSTRALIA AT A GLANCE
Australia is the sixth largest country in the world but it has one of the lowest population densities in the world – only two people per square kilometre. The total population of Australia is 25.7 million.
Australia's biggest attraction is its natural beauty. The landscape varies from endless sunbaked horizons to dense tropical rainforest to chilly southern beaches. Australia boasts nearly 10,000 beaches—more than any other nation.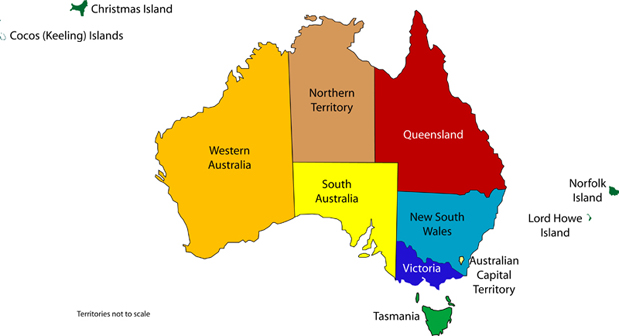 STATES AND TERRITORIES
Australia is made up of six states (Victoria, New South Wales, Western Australia, Queensland, South Australia and Tasmania) and two territories (Northern Territory and Australian Capital Territory). Each state and territory has its own parliament, flag and floral emblem. On 1 January 1901 Australia became a federated nation after the six colonies were bound by one parliament, one constitution and one flag. The capital city of Australia is Canberra.
NEW SOUTH WALES
In 1770 Captain James Cook sailed into what is now called Botany Bay. The colony of New South Wales was founded in 1788 and originally comprised much of the Australian mainland, as well as Lord Howe Island, New Zealand, Norfolk Island and Van Diemen's Land.
There are many reminders of the original inhabitants of NSW, the Aborigines, around Sydney with more than 2,000 Aboriginal rock engraving sites. Many of Sydney's suburbs have aboriginal names such as Woolloomooloo, Parramatta, Woollahra, Toongabbie and Yagoona.
NSW is the home of Australia's highest mountain peak, Mount Kosciusko, which towers 2,228 metres above sea level. It is surrounded by the snow-capped ski fields of the Southern Alps of NSW while Australia's longest river, the Darling River, flows 2,740km from northern NSW to join with the Murray River near the Victorian border in the state's south-west.
NSW is the most populated state in Australia and has a population of 8.2 million people (in June 2012), with over 60% of that population is based in Sydney.
SYDNEY
Sydney is the largest and oldest city in Australia. With sandy beaches to the east, National Parks to the north and south, and high ranges, plateaus, upland areas and escarpments to the west, there is a huge variety of things to do and see.
Sydney is a sophisticated multicultural city full of choices —whether you want entertainment, shopping, sightseeing or relaxation. Situated on the magnificent Sydney Harbour, spanned by the landmark Harbour Bridge, Sydney's waters are constantly criss-crossed by busy ferries and colourful sailing yachts and cruisers. Overlooking the Harbour are the Botanic Gardens leading down to the Sydney Opera House.
TIME DIFFERENCE
Most areas in Australia are 2-3 hours ahead of Asia, 4-5 hours ahead of the Indian subcontinent, 9-10 hours ahead of Europe and 16-20 hours ahead of the Americas. Daylight saving (Summertime) operates in most Australian states from late October to late March.
ACCOMMODATION
WIN College does not provide accommodation assistance. Accommodation for students in Sydney can range from:
HOMESTAY
Homestay is a type of accommodation for students from another country staying with a local host family while they are studying abroad. A homestay is a popular option for students who need a safe, economical and convenient place to stay. Students can adjust quicker in a new environment with the friendly support offered by host families. They can make new friends, experience the Australian lifestyle, culture, weather, and society and practise their English and participate in the daily routine of the host family's life.
We suggest Meridian Homestay Services (www.meridianhomestay.com.au) which delivers high standards in Homestay for their students.
Meridian Homestay Services is a Sydney based Homestay provider with more than 25 years experience finding homes for students from all over the world.
All host families are inspected by Meridian Homestay Services to ensure they meet Federal Government supported standards. It is mandatory for all host families to have a Working with Children Check and commit to host insurance.
They also offer a 24-hour, 7-days a week Emergency Support Service, for students and Host families.
BUDGET HOTELS, HOTELS AND BACKPACKERS
Budget accommodation typically offers essential comforts and cleanliness, with the availability of varying additional amenities. These establishments are usually a cheap option for a short term stay..
TRANSPORT
Public transport is very easy in Sydney and is also cheap. WIN College is located a few minutes walking distance to Sydney Central trains, light rail and buses.
Transport Info line 131 500 or check the trip planner at www.transportnsw.info or You can also use the bus route finder at http://mysydney.nsw.gov.au/bus.
An Opal Card will make travelling on buses, trains, light rail and ferries convenient and will include any discounts you may be entitled to.
Taxis are an expensive mode of transport and the use of a private car to WIN College is not recommended due to the difficulty of parking in Sydney.
BANKING
Australia's major banks are:
Most banks will charge you for having an account with them. If you make a withdrawal from another banks ATM you will pay up to $2.50 per transaction. Have a look at www.infochoice.com.au
HEALTH CARE AND INSURANCE
The nearest low cost medical and dental clinics are located at:
Oxford Village Medical Centre https://www.oxfordvillagemedicalcentre.com.au/ Shop 18/63 Oxford St Telephone 9194 2010
Please be aware that unless it is a life-threatening emergency, do not attend a hospital for a medical visit. Hospitals will charge you $400/visit, very little of which your OSHC provider will reimburse to you. Visit a local doctor (or GP) if you need medical attention.
Dentist: 580 George Street SYDNEY NSW 2000 Telephone: 9267 7569
Overseas Student Health Cover is a compulsory requirement of DHA– all student visa holders must have Overseas Student Health Cover.
SAFETY
Australia is one of the world's safest countries. However, like all countries and major cities, undue risks should not be taken in Sydney so:
Personal security
Avoid poorly lit park areas after hours – walk with purpose and confidence
Do not provoke undue attention to yourself with loud behaviour
Take care of your valuables and belongings at all times
If you are going out on the town to bars and clubs keep a careful watch over your drinks/or have a designated person to watch over everyone.
Do not Hitchhike (do not get into a car with someone you do not know)
If you are in a major accident or you feel your life is in danger use your cell phone and contact the police, fire or ambulance 000. Even if you say nothing, the police can trace you.
Beaches:
You must swim inside the flags, swimming outside these flags can be dangerous and the lifeguards may not to be able to see you if you need help. Hold your arm up if you need help.
In summer the UV can be extreme. Remember: Slip on a shirt, Slop on some Sunscreen (maximum strength), Slap on a hat.
Drink plenty of water and sports drinks to replace salt if playing sport in the sun.
Bushwalking or Camping
Don't leave your shoes outside where spiders can crawl into them. Shake them upside down before putting them on. Ph: 13 11 26 Poisons line
Never put any part of your body anywhere you can't see. Don't go walking barefoot, Keep to paths
If you see a snake, don't approach it or harass it. Quietly walk away until you can't see the snake anymore and then run.
SOCIAL ACTIVITIES AND EVENTS IN SYDNEY
There are many fun things to do in Sydney a lot of them can be free! Have a beach party or picnic in the large parks around the city and suburbs; attend the free music festivals, such as opera or rock in the park at the Domain in the centre of the city. There are often free festivals on at Darling Harbour. Or see free shows such as Vivid where Sydney puts art and light shows on buildings or do some great walks around the beach fronts. See Sculpture by the sea which is one festival that happens October and November. Most art galleries and museums are free.
There are websites such as meet up where you choose something you would like to do and join a group of bush walkers, diners or theatre goers.
Choose where and what you would like to join: www.meetup.com/cities/au/sydney
Tours and things to do: www.viator.com/sydney
Free things to do in Sydney: http://www.lonelyplanet.com/australia/sydney/travel-tips-and-articles/77780
Social Events: www.sydney.com/event
In Sydney: http://www.sydney.com/destinations/sydney/sydney-city
EMERGENCY SERVICES (24 HOURS)
Familiarise yourself with the Emergency services numbers: Useful phone numbers are:
ORGANISATION
PHONE
Emergency Services – POLICE. FIRE. AMBULANCE. (free call)
000
Police Level 3, SPC, 151-241 Goulburn Street DARLINGHURST 2010
Fax: 02 9265 4104
9265 4144
Fire Station 113 George St, Redfern 2016
9698 1161
Hospital St Vincent's, 390 Victoria St, Darlinghurst
8382 1111
Dentist Sydney Dental Hospital, 2 Chalmers St, Surry Hills
9293 3333
Poisons Information Centre
13 11 26
INTERPRETER SERVICES
Reception will help you with any interpreter assistance. We have access to an interpreter twenty four (24) hours a day.
Be aware of Telstra's twenty-four (24) hour interpreter service. Telephone 131 450 – Ring this number if you need help to communicate in English.